Introducing The Step-Thru E-Bike and Step-Thru Plus E-Bike
The New Step-Through eBikes From Batch Bicycles
Two E-Bikes. Two Ways to Ride.
Step-Thru E-Bike.
Ride All Day Through City Streets and Backroads Alike.
Smooth Power. Easy Pedaling.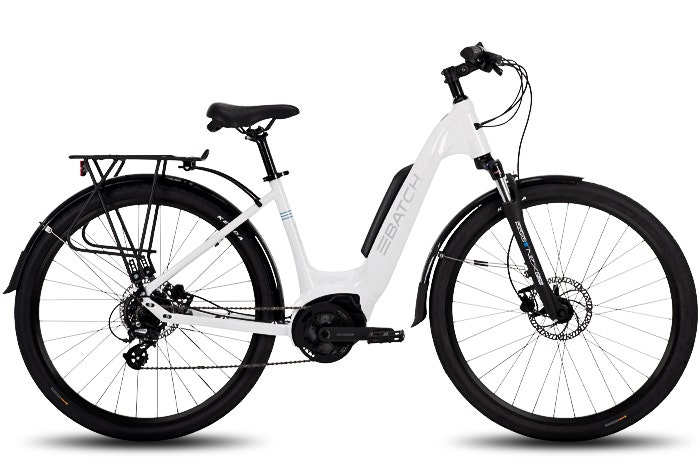 Step-Thru E-Bike. Built with the daily commute in mind the Step-Thru E-Bike can handle grocery runs and trips to the office all on one charge.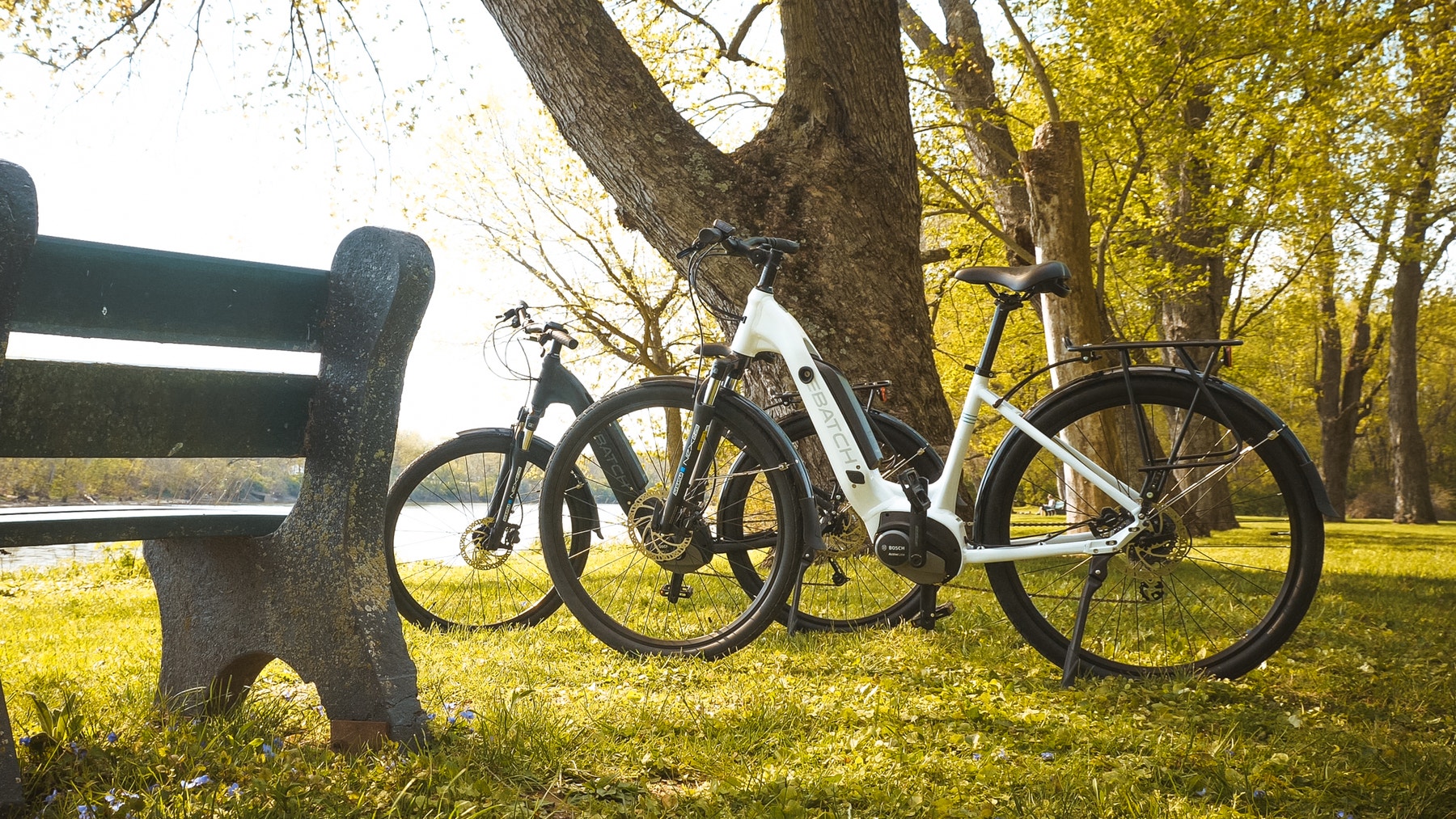 Discover The Step-Thru E-Bike and Step-Thru Plus E-Bike
The step-through ebike that can do it all.
Ready to carry up to 50lbs of cargo, travel up to 80 miles, and provide pedal-assistance at 20mph, we built the new Step-Thru E-Bikes to meet the demands of the weekday commute all week long, and still be ready for the weekend cruise.
Bicycle frames come in lots of different styles and sizes for riders of all ages and abilities, but the most accessible and easy to mount are the Low Step or Step-Thru style. This frame design removes the typically high mounted crossbar found on Diamond Frames that joins the front strut or steering knuckle to the seat mount. Traditionally this design is best utilized for high-performance bicycles like racing or adventure trail riding, whereas the low step-through frame style offers convenience this traditional frame cannot match. There is nothing more convenient after a long day of hard pedaling up and down the hills than a low step frame that is easy to dismount. Yes, we've been there too with those sore hips and tired legs, dreading the end of the ride. With a Step-Through frame, you skip the discomfort and can easily step off the ebike. This is especially helpful for riders who can't lift their legs over the traditional high "top tube" bar for whatever reason and of course, there are three big reasons we chose this design:

1. Low Step or Step-Thru frames help riders who want an easier mounting and dismount position where they can step through the bike instead of over the top of it to get on or off. The other advantage of a Step-Thru frame is found on ebikes where the battery and motor can be mounted out of the way of the rider. For instance, on the Batch Step-Thru E-Bikes, we mount the battery on the front frame interior for easy access when charging or replacing the Bosch PowerPack battery.

2. Integrated battery design (battery on frame layout) is what we are using for our e-bikes and it's what is sometimes called a mid-step or "mixte" frame. This offers balance to the e-bike while maintaining a strong frame for supporting up to 50lbs of cargo and the rides at the same time. Check out the newest Step-Thru E-Bike and Step-Thru Plus E-Bike today and get riding with the best city commuter and comfortable cruiser all in one ebike today.

3. For riders who have a physical movement limitation or a special need that would traditionally not allow them to be able to ride a diamond frame bicycle can now easily mount and dismount the Step-Thru E-Bike frame. This easy to get on and off design was a big request from our customers who wanted a more accommodating bike frame. We hope to help everyone who can ride, to be able to enjoy an e-bike, no matter what stage of life they may find themselves in.
Fifty Pounds. That's right, we designed our Step-Thru E-Bikes to carry heavy payloads of up to 50lbs in addition to the rider through the city and around the neighborhood park. Whether you're on the way into the office with a satchel full of the morning's presentations ready to pass out, or out to a picnic with friends, we've got you covered with cargo capacity to spare. Here are eight ways we use the 50lb cargo-carrying power of our Step-Thru E-Bikes:

1. Your favorite four-legged friend. (If your best friend is used to riding along then they'll feel right at home as your #2 co-pilot. Though we recommend securing their seat to the cargo rack before departing, safety first!)

2. A week's worth of groceries. (We had everything in there from milk to eggs, to vegetables, a bread loaf and all the fixings for a tasty pot roast when mom and dad came to visit.)

3. Massive textbooks? Heavy backpacks can ride shotgun. (As hefty as textbooks are becoming these days, it's no surprise a helping hand is needed when going to and from school.)

4. Tools for the DIY project at the neighbor's house. (Power drill, spare batteries, the hardware, and even paint can or two. You're on the way to help a friend with their home improvement project, and we want to make sure you can bring everything you need to do the job.)

5. Planning a hike? Let's get to the trailhead rest and ready. (A typical day hiking pack can weigh as much as 35lbs with all the food, water, rain gear, and creature comforts to keep your hike fun all day.)

6. A trip into the office, let's not forget the presentations for the team meeting. (Laptop, tablet, and the printed presentations to pass out add up to a weight you don't want on your back or hanging from your shoulder while you ride. Stow it on the cargo rack and arrive at the office ready to take in the morning.)

7. Got a green thumb and get your gardening on? (Pack on the mulch or topsoil and bring home the colors of spring to plant. 50lbs of cargo goes a long way when building your garden at home especially if you live in the city where it's not always convenient to use a car.)

8. Headed to a birthday party and you're in charge of decorations? (Easy, peasy with this much cargo room, you can fit all the balloons, hats, sparklers and every other trimming to make this party tremendous.)
Pedal Assist Sensor (PAS) equipped e-bikes to add power to your pedal effort with a motor and battery directly connected to the pedals making it far easier to accelerate or climb hills. This helps riders of all fitness levels enjoy the tallest hills and ride for longer where they would normally not want to without the extra power pedal assist delivers. Pedal-assist is the preferred drivetrain for e-bikes today as it helps in two ways:

1. Pedal Assist e-bikes offer a more familiar pedaling experience when compared to traditional bicycles because the assist is a gentle "push" added to your natural pedal motion when riding. Batch Step-Thru e-bikes feature a pedal-assist that engages the Bosch Active Line Motor across a wide range of power settings to give you a pedal power boost at all speeds and pedal efforts to help with acceleration. This extra power allows you to ride up hills as well as navigate less than ideal terrain without over-exerting by having to supply 100% of the power yourself to the pedals. Of course, you might be thinking this extra power could be too much and "what if I start going too fast...", but no worries, we've built in a safe setting to keep those speeds under control and just as with a traditional bicycle, you have your hand brakes as well as the option to simply stop pedaling to slow down. Bosch has set the top speed at 20mph which is the legal limit of e-bikes across the US while still offering a big boost in speed over a traditional bicycle ride.

2. E-bikes with throttle control act very similarly to scooters, mopeds, or even smaller motorcycles as there is no pedal effort needed to maintain movement once underway. However, this does require holding the throttle down, or "on" to keep the power flowing to the drivetrain which may not be ideal for you. It can be uncomfortable holding pressure on a button, push-lever type, or twist throttle, especially if you're looking to enjoy more natural riding positions with your e-bike. We chose to not implement a throttle on our Step-Thru E-bikes because it's becoming increasingly common for throttle e-bikes to be illegal in major cities and we didn't want any of our customers who are riding around town or to work during the week to be excluded from owning an e-bike. Pedal Assist e-bikes can go anywhere and everywhere the rider wants to take them and need no other controls or input to get going besides the simple pedal motion we're all used to using while riding a bicycle.
Low-Step Frame High-Quality Ebike.
Convenient. Comfortable. Classic.
Batch Step-Thru and Step-Thru Plus E-Bikes offer a natural mounting and dismounting position just like the seats you use every day in cars, trains, and planes. No need to get a leg-up, when you can step-through. Add in adjustable seat height and a cushioned seat pad, and you have a comfortable ebike ready for long rides.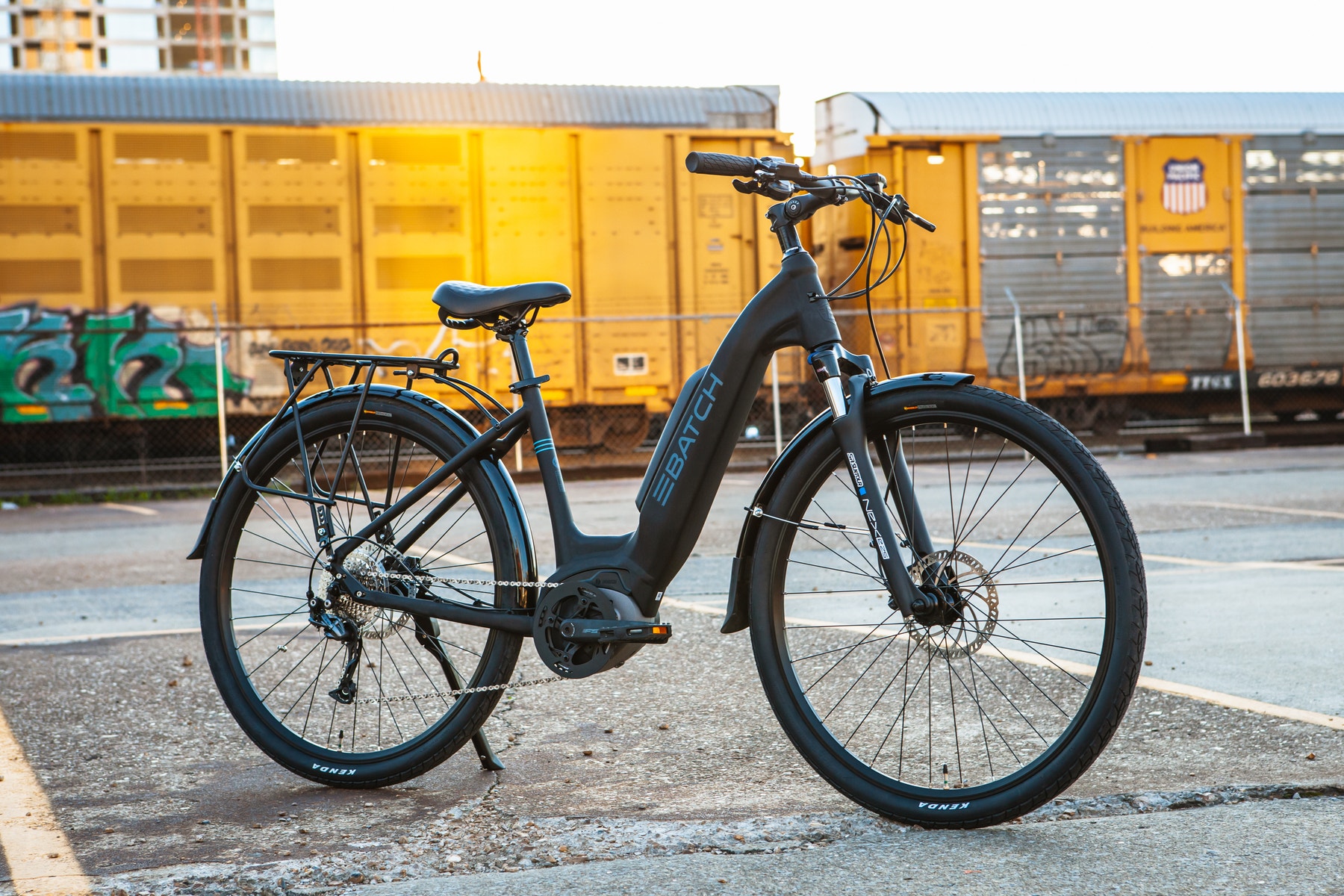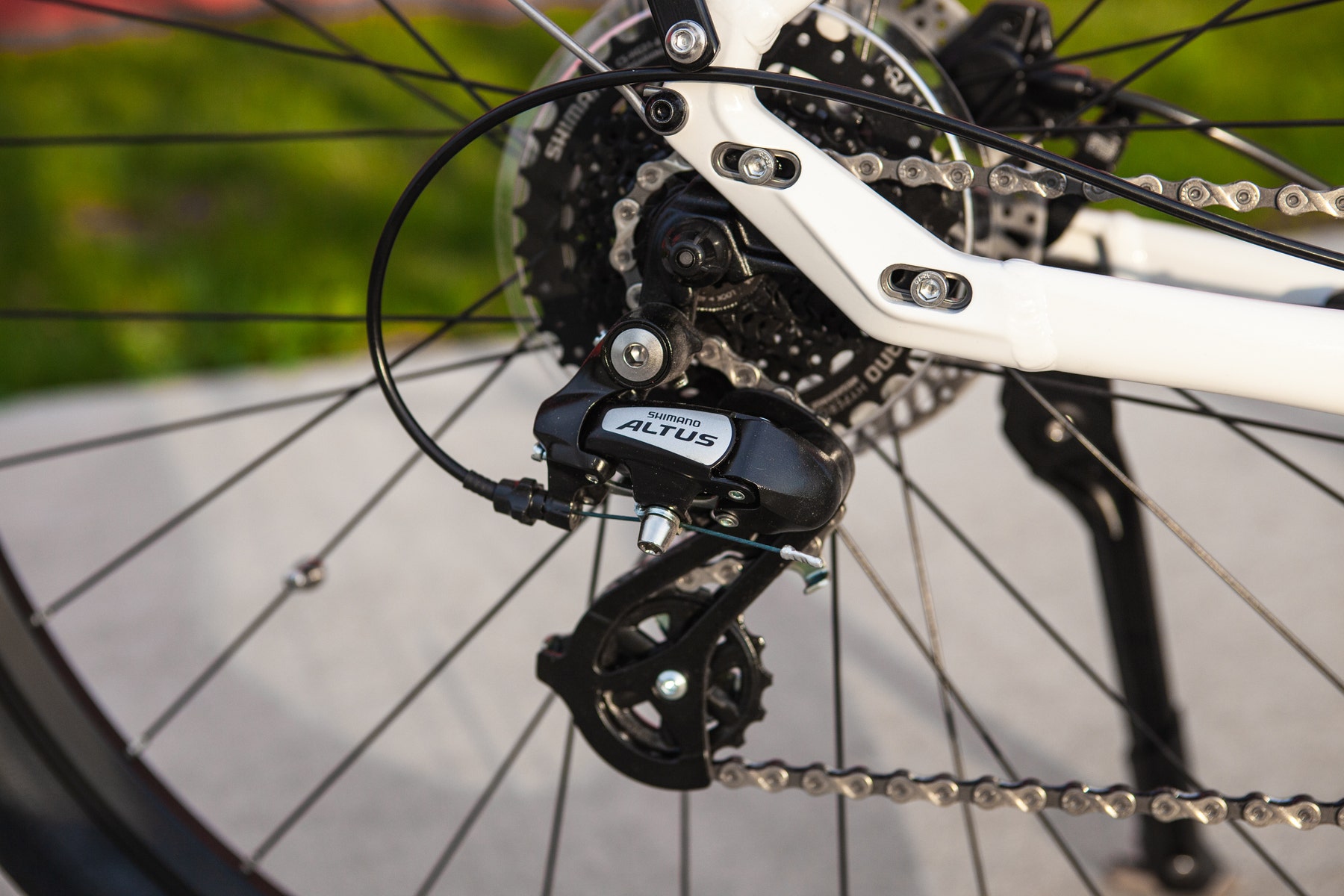 Eight Speed or Nine. A Drivetrain That's Sublime.
FSA Crank + Shimano Altus Drivetrain
Featuring a robust 34T or 38T alloy crank from FSA, paired with the smooth shifting Shimano Altus 8-speed or 9-speed gears, these E-Bikes deliver power at all speeds and are ready to take on any hill in your path, be it in the city street or in the countryside.
Pedal Assist Powered Up for Adventure.
Extra Pedal Power Built-In.
Whether you're powering uphill or looking for an extra boost in speed, the pedal-assist feature found on Batch Step-Thru E-Bikes have the extra push to get you going and keep you pedaling for longer distances. Helping riders of all abilities and ages enjoy bicycling with less pedal effort required, so they can focus on covering more ground on their ride.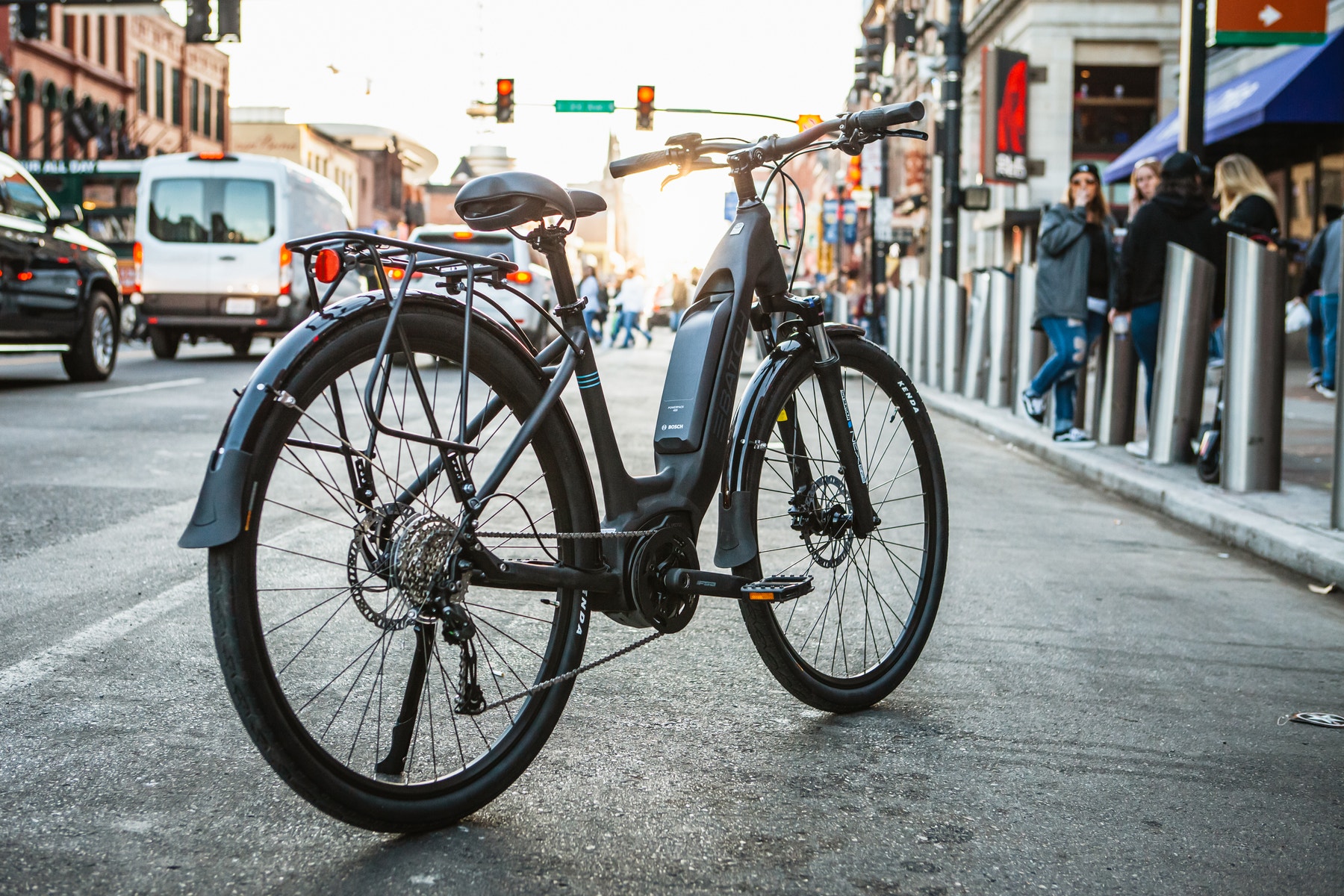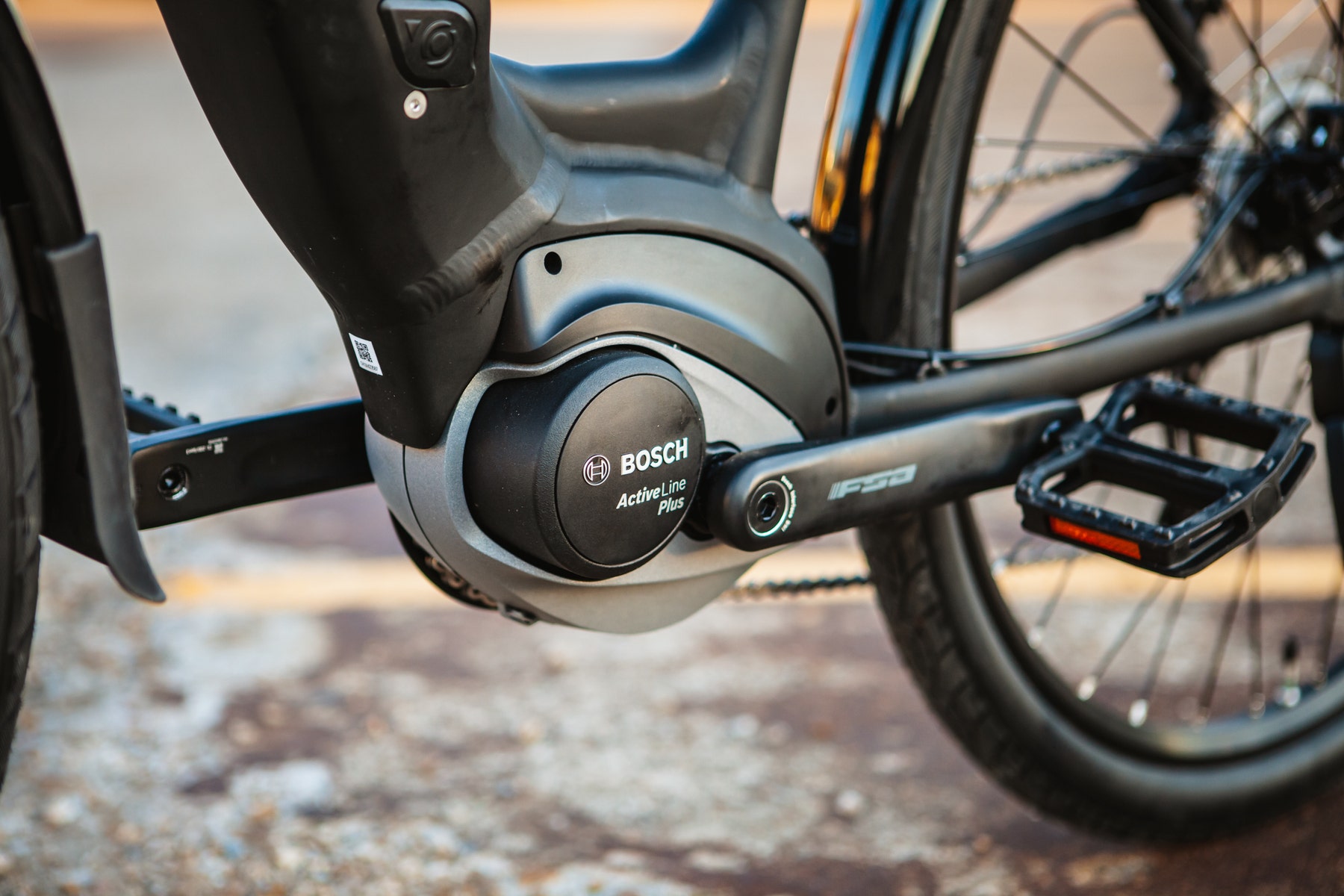 Bosch Active Drive Line Motor
Robust Pedal Assist Performance.
Enjoy quiet operation and smooth gear shifting while you ride without any extra noise or pedal effort required. Powerful enough to help riders cruise at up to 20mph while also offering a softer easy pedal experience above that speed is what sets Bosch Active Line motors apart from the competition. Delivering up to 50nm of torque, the Active Line Plus motor is ready to take on city streets and countryside hills alike.
Bosch PowerPack Battery
Reliable Power Delivery and Long Charge Life
Combining compact size and maximum charge efficiency, the Bosch PowerPack 400wh frame mount battery found on our Step-Thru E-Bikes provides the easy mounting and dismount of the electric bicycle. Built to never have a memory effect from partial charging and a very low discharge rate your Step-Thru E-Bike can be safely stored over winter and still be ready in the spring. Charging is even easier with this battery pack reaching 50% charge in just under 2 hours and fully charged in under 4 hours on a standard charger.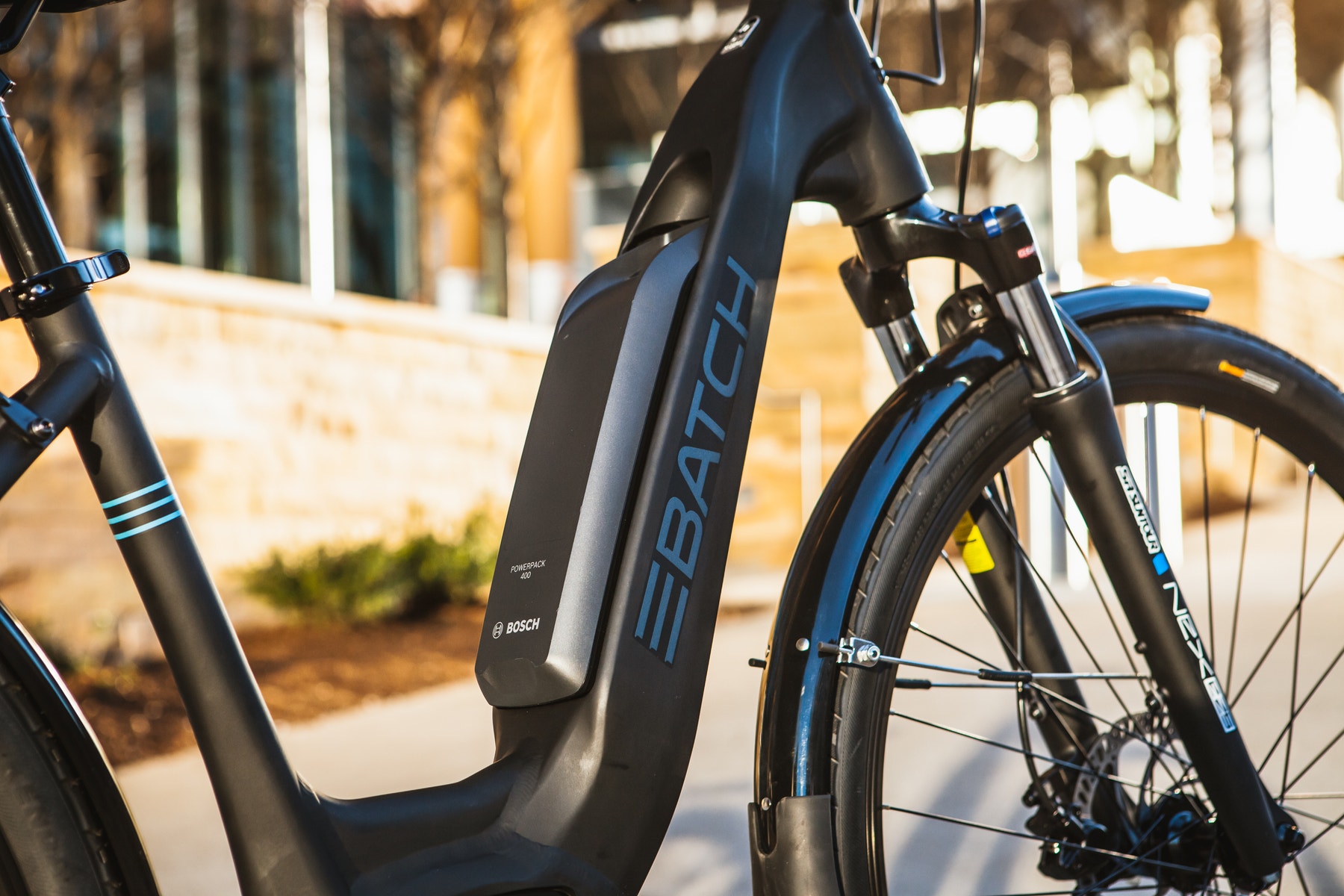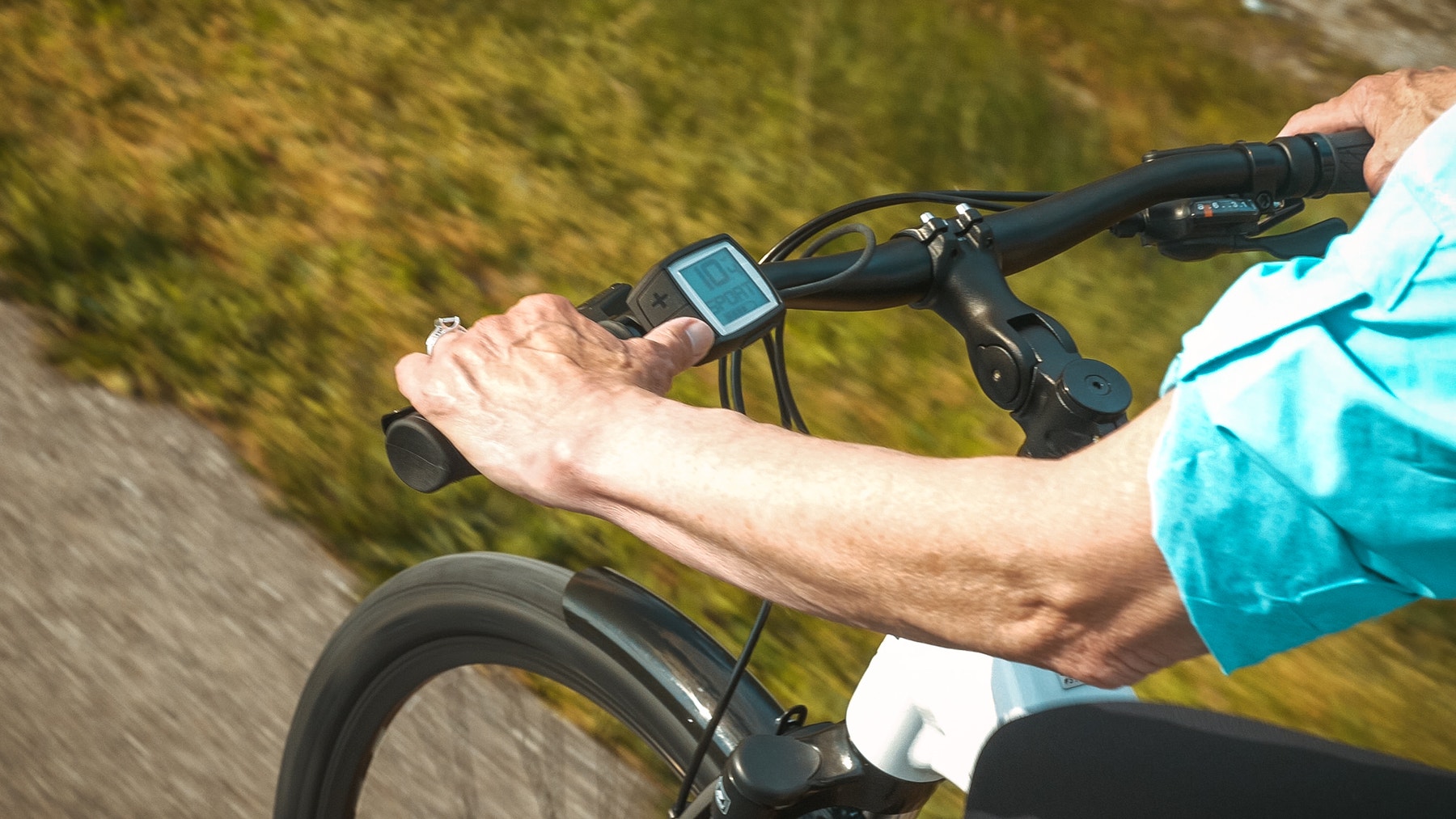 Get a handle on the controls
Adjustable handlebars for comfortable riding
Strong alloy metal frame, soft touch rubber grips and full control at your fingertips will have you enjoying every minute of the ride. Without the need for a throttle control, and offering up to +40 to -40 degrees of angle adjustment, the handle bars can meet the ergonomic requirements of nearly any rider.
Bosch Purion Display
All the details at a glance
Bosch Purion displays are the compact information screen that tells you everything you need to know about the performance of your Step-Thru E-Bike. From battery charge level, to riding performance mode selection, to current speed and more. Featuring, selectable display modes and easy to press buttons, the Purion display is the perfect partner for the already fantastic Bosch Active Line Motor and PowerPack 400wh battery.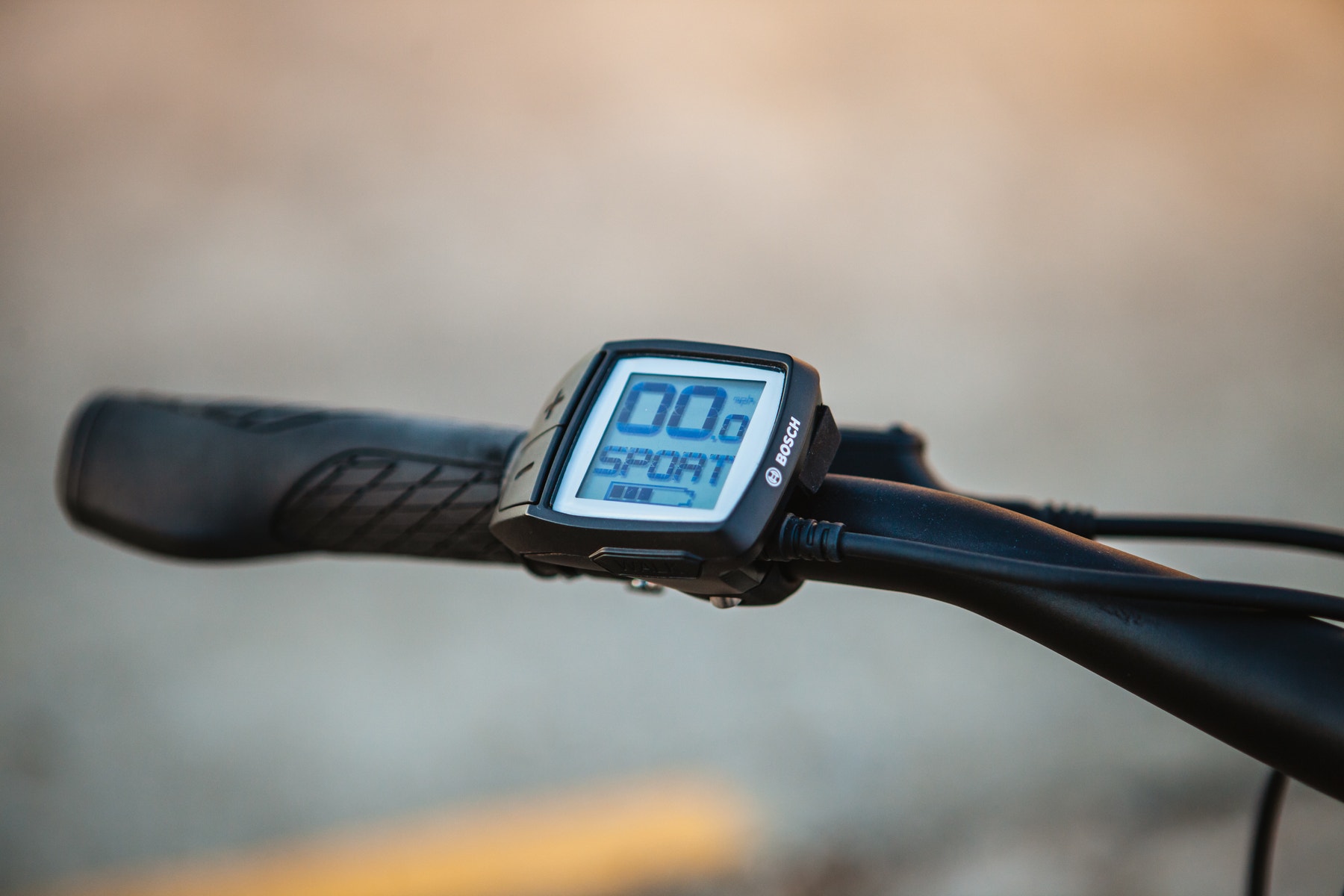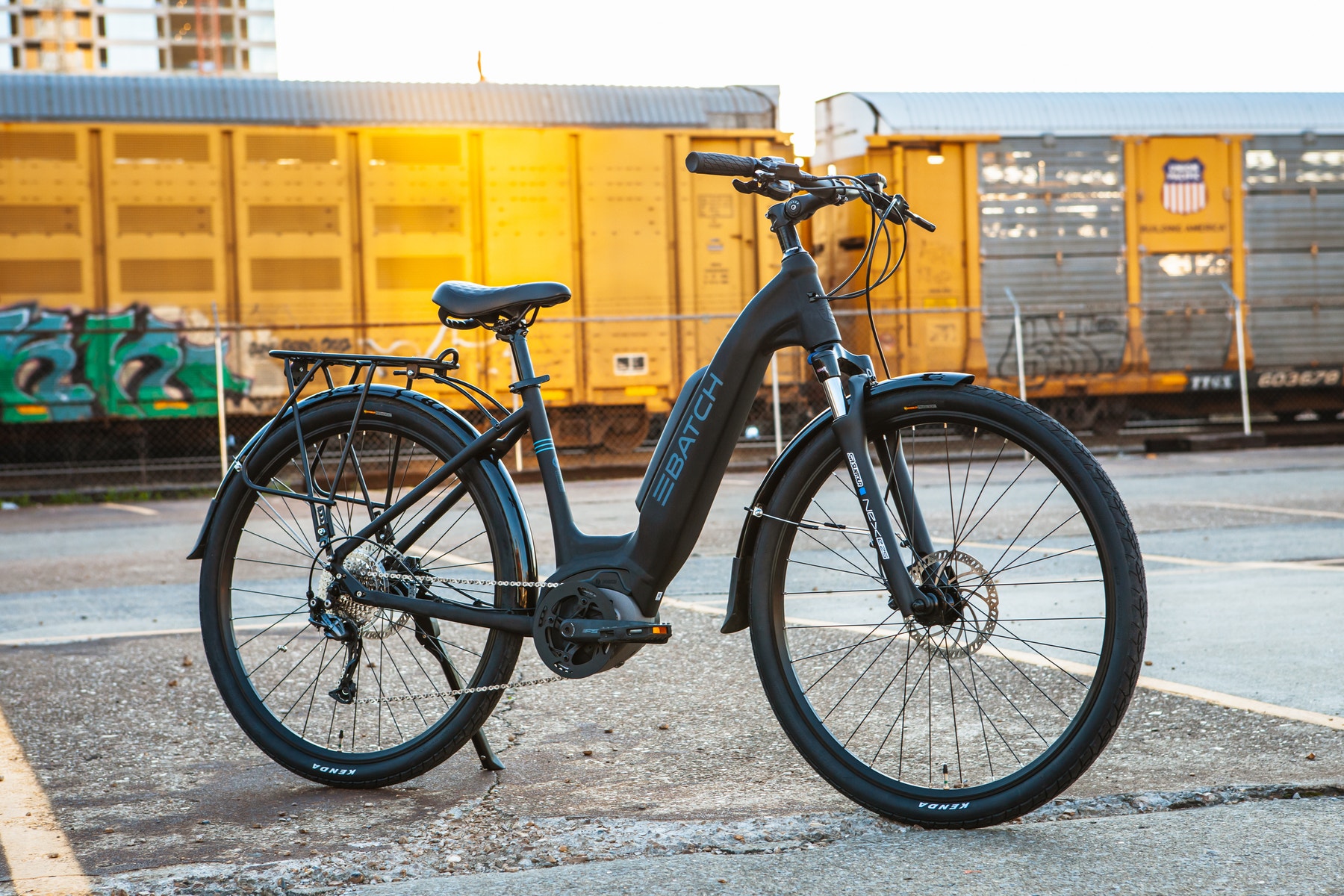 Step-Thru Plus
Bosch Active Line Plus Motor

Step-Thru Frame

Suntour Suspension Fork

Shimano Alivio 9 speed

Optimal Support for an excursion or tours, including beyond city limits

30 - 85 mile range

50 nm Maximum Torque

2 year battery warranty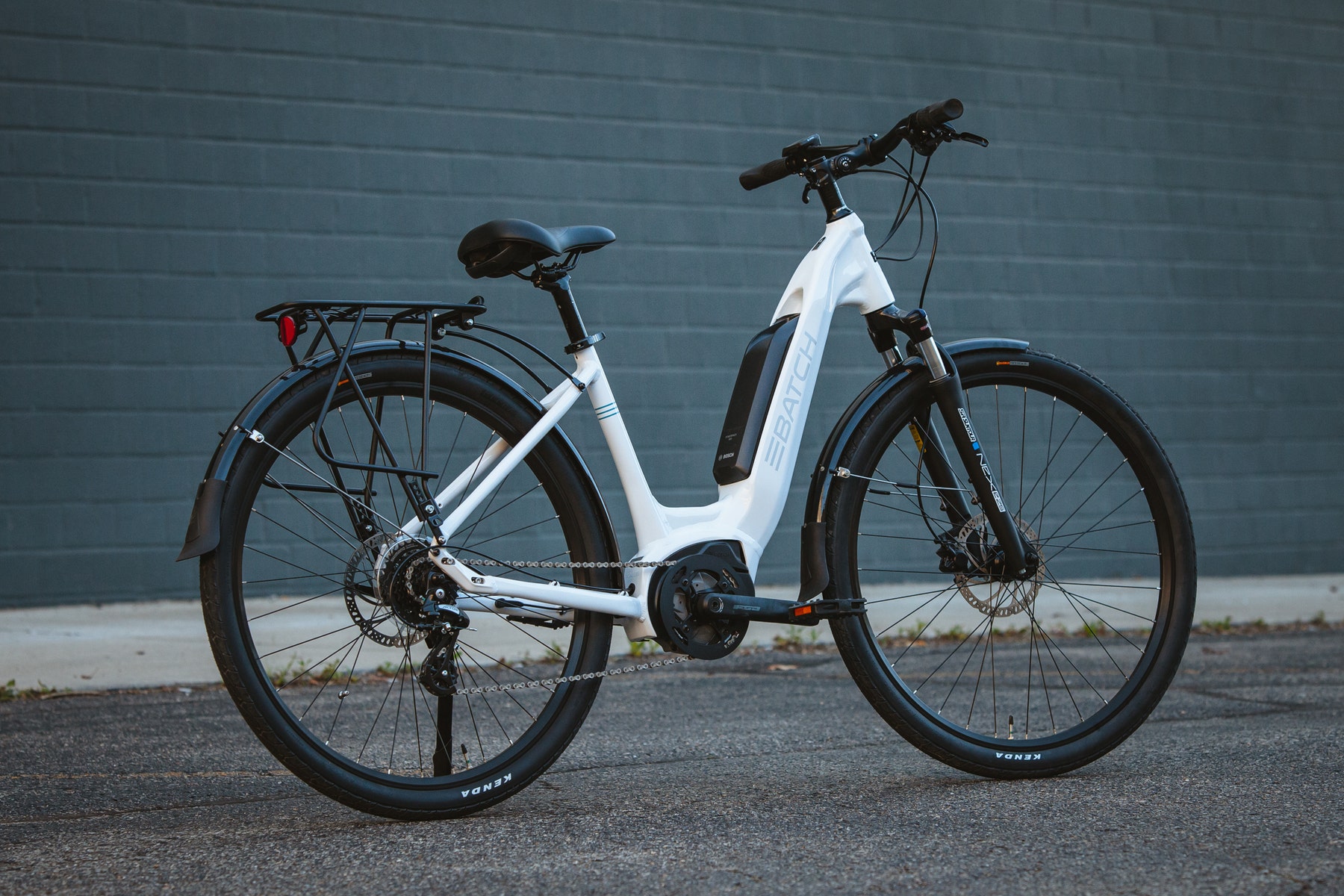 Step-Thru
Bosch Active Line Motor

Step-Thru Frame

Suntour Suspension Fork

Shimano Altus 8 speed

Moderate Power for relaxed everyday rides and short excursions

30 - 85 mile range

40nm Maximum Torque

2 year battery warranty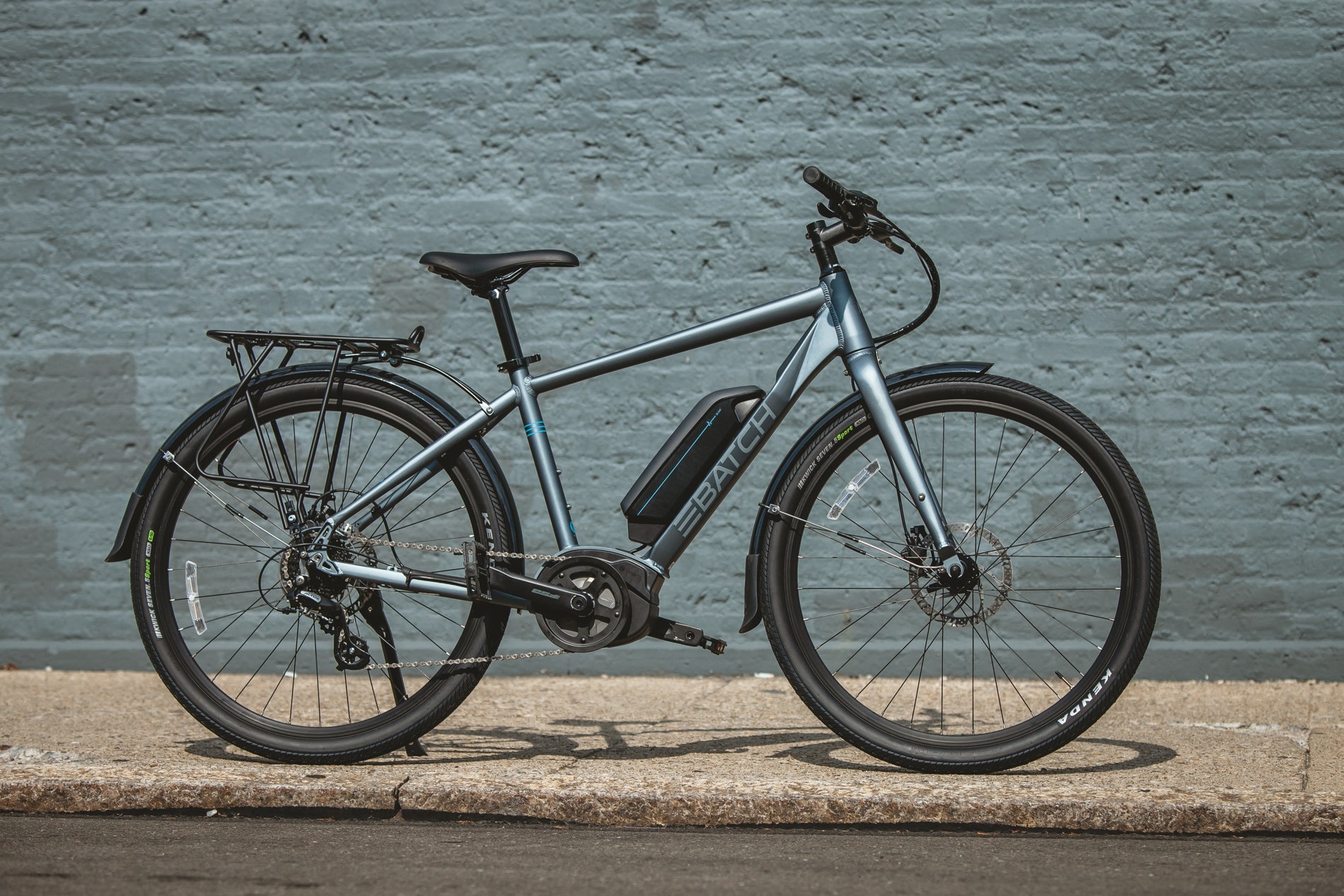 E-Bike
Bosch Active Line Motor

Diamond Frame

Lightweight Aluminum Fork

Shimano Altus 8 speed

Moderate Power for relaxed everyday rides and short excursions

30 - 85 mile range

40 nm Maximum Torque

2 year battery warranty